Welcome to Houseopaws Reg'd toy poodles. Houseopaws is a registered kennel name with the Canadian Kennel Club.
We are lovers of toy poodles. We live in Prince Albert, Sk. along with our toy poodles. Our dogs have the run of the house and are members of the family. They are very well socialized as are any puppies born in our home. We will be breeding toys, tiny toys and teacups to produce quality pets for other poodle lovers.Our dogs are healthy and receive regular vet check-ups, shots and care at Park Range Veterinary Clinic. All dogs/puppies are fed Medi-cal developmental formula. Our goal is to produce healthy, happy well socialized pets for other people. All puppies are vet checked before being placed in their new homes.They are also started on house training and/or pee pad training. All puppies are raised in our living room, there are no kennels here. Pups will be sold on non-breeding contracts. Poodles do not shed and therefore require regular grooming every six to eight weeks. A poodle puppy will be with your for up to 15 years so be sure you are ready for that commitment before purchasing a puppy.

Click on pictures below to go to each dogs own page.
The Girls
KANDI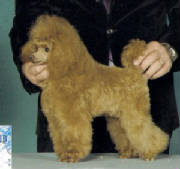 The Boys
NUGE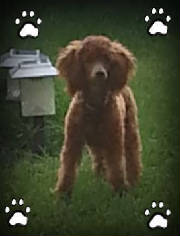 Pets only
Teacup "Roxy" pet only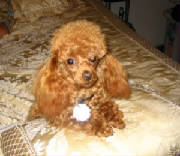 PAGE (tinytoy)
KODA (tinytoy)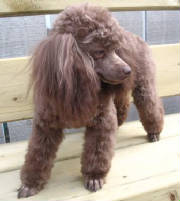 BATMAN (teacup)